P3A Recognised for Outstanding Contribution to Socio-Economic Development of Pakistan
It is with immense pride and gratification that we announce a momentous achievement that embodies our unwavering commitment to progress and excellence. The Ministry of Planning, Development and Special Initiatives has bestowed upon the Public-Private Partnership Authority (P3A) the esteemed 75 Development Leadership Award, a resounding recognition of our exceptional contributions to Pakistan's socio-economic advancement.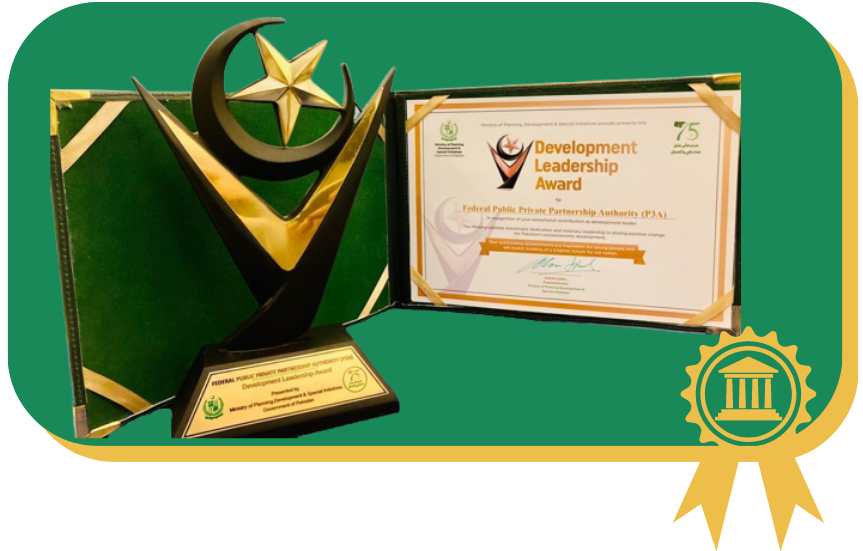 This prestigious accolade, presented on the backdrop of Pakistan's 75th anniversary in August 2022, celebrates our dedication to pioneering positive change and fostering sustainable development. The 75 Development Leadership Award stands as a testament to our relentless efforts in shaping a brighter future for our nation.
The awards ceremony, held on the 8th of August at the iconic Convention Centre in Islamabad, was a testament to the collective determination that drives us forward. Distinguished guests, influential leaders, and fellow awardees converged to celebrate our shared commitment to driving transformative progress.
At P3A, we are honored to be recognized alongside other esteemed recipients who share our vision for a thriving Pakistan. This award underscores our commitment to excellence, innovation, and collaboration, as we continue to forge partnerships that drive tangible impact.
We extend our heartfelt gratitude to the Ministry of Planning, Development and Special Initiatives for this remarkable recognition. This award is a reflection of the dedication of our team, partners, and stakeholders who have played an indispensable role in our journey.